Why the Taliban – China alliance is bad news for religious freedom
Why the Taliban – China alliance is bad news for religious freedom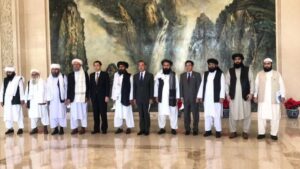 The Taliban and Chinese delegations met in August 2021 to certify a bilateral cooperation agreement.
The co-founder of the Taliban movement, Mullah Abdul Ghani Baradar, and Chinese Foreign Minister Wang Yi posed together in a photograph on 28 July. The Taliban had not yet seized the government, but Beijing already recognised them as "a key political and military force".
"We hope all factions and ethnic groups in Afghanistan will unite as one and establish a broad and inclusive political structure that suits Afghanistan's national realities, so as to lay the foundation for realizing enduring peace", pointed out Chinese Foreign Ministry spokeswoman Hua Chunying.
The Chinese government has already stated that it expects a smooth transition and stability for both the country and the region from the Taliban government, including fighting terrorist groups such as the East Turkestan Islamic Movement, a radical Uighur organisation that Beijing accuses of being active in the Xinjiang area.
In return, China "reiterated its commitment of continuation of their assistance with Afghans and said they will not interfere in Afghanistan's issues but will help to solve the problems and restoration of peace in the country", a Taliban spokesman told Reuters.
However, in the ambiguity of diplomatic language there is room for many issues that affect the development of human rights on the ground. One of them is the state of religious freedom and freedom of conscience, not only in Afghanistan but also in China.
Both countries are among the 17 most hostile countries against religious minorities, Christians in particular, according to the organisation Open Doors.
Economy and Sharia law
The new Taliban government is struggling to dissociate itself from the Islamic Emirate that ruled the country between 1996 and 2001. For example, unlike then, it is now possible to see smokers on city streets. Moderation, on the other hand, is more than subtle.
"We [act] with accordance to Sharia law", said Mawlavi Abdullah Mohammad, the director of the new Ministry for the Propagation of Virtue and the Prevention of Vice, in an interview with CNN.
"Firstly, we inform people about good deeds. We preach to them and deliver the message to them in a nice way; the second time we repeat to them, again; the third time we speak to them slightly harshly", he added.
With hundreds of thousands of people leaving the country in just the first month of Taliban government, it is not expected that policies will be too considerate about the state of human rights.
"We abide by laws and rules. We give advice, but to grab someone's hand, to beat him up, to send them notice or to send them a warning letter, is against the Emirate's policy. If anyone has done this, it is a self-assertive act", stressed Mohammad.
Meanwhile China made it clear that they "respect the right of the Afghan people to independently determine their own destiny, and stands ready to develop good-neighborly, friendly and cooperative relations with Afghanistan".
Protection from the Uighurs
For Massimo Introvigne, editor-in-chief of the online publication Bitter Winter, which specialises in analysing religious freedom in China, "Beijing seeks above all to ensure that the Taliban do not support the Uighur Muslim population in Xinjiang"
He believes that could happen "because the Taliban are motivated by a different ideology than the Pakistanis and Saudis, who ignore human rights and Islamic solidarity because they believe that business with China is more important".
"Uighur terrorism existed in the past, but it was just a few hundred people, out of proportion to the millions China has detained. Today terrorism is a pretext for repressing Muslims in China. ISIS has no substantial interest in the Uighur cause", explains Introvigne.
Furthermore, "there are raw materials in Afghanistan that may be of interest to the Chinese" and "the Chinese may want to show that they have succeeded in helping to advance peace in Afghanistan, something the US has not been able to do", points out the Bitter Winter editor-in-chief .
"An alliance that may threaten global religious freedom"
In an article published in the online magazine Religion News Service , the President of Open Doors USA, David Curry, stressed that the alliance between China and Afghanistan "is more than a threat to democracy it's a human rights crisis that may threaten global religious freedom".
"We are being given a rare glimpse of the immeasurable human cost incurred when authoritarianism is allowed to spread unimpeded", added Curry.
The Open Doors USA President pointed out that "the China-Taliban alliance incentives mass persecution", because "wherever an authority enforces total allegiance to one prevailing ideology, people suffer".
According to Introvigne, the outcome of the alliance "will surely be bad". "The Taliban will persecute any religion other than Sunni Islam and will be defended by China, as it does with other human rights-violating [countries] as long as they are anti-US, from Venezuela to North Korea".
That, Introvigne argued, will also have repercussions in China, with Muslim Uighurs from Xinjiang, who previously sought refuge in Afghanistan by moving through the Wakhan Corridor, now having to look elsewhere.