Understanding Ethnic Identities Amidst Social Change in Asia: Implications for Christian Mission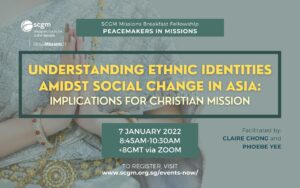 Understanding Ethnic Identities: Case Studies
SYNOPSIS
In several Asian cultures, 'religion' is inseparably associated with cultural and national identity. How do we understand and appreciate this? How do we engage with them and fulfil our Christian mission respectfully and peaceably? We will look at some case studies and discuss these questions in breakout groups. We hope to co-create a renewed understanding of Mission together. Be part of this community of reflective practitioners.
Join us and be part of this community of reflective practitioners.
Registration close on Wednesday, 5 January 2022 @ 8:00pm (SGT).
SCGM will email participants the Zoom link & password 2 DAYS before the event. If you do not receive the details by 23:59hr on Wednesday 5 January 2022, please check your spam/junk folder, or drop us an email at admin@scgm.org.sg.
WEBINAR FACILITATORS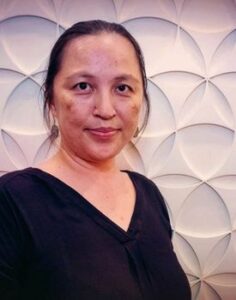 CLAIRE CHONG
Facilitator
Claire is a research and training associate with SCGM, focusing on contextualized missiology. She served as a missionary in Cambodia for 15 years and currently serves with Asia2021 Congress and WEA Mission Commission.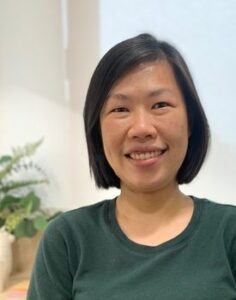 PHOEBE YEE
Facilitator
Phoebe has been involved in faith-based development in Southeast Asia since 2010, supporting community projects initiated by churches and Christian organizations. She was based in Thailand from 2013 to 2018 as a staff with World Vision Foundation of Thailand, supporting faith-based groups to reflect on Christ-like values that can contribute to their communities' wellbeing. Phoebe currently serves and worships at Wesley Methodist Church and is happily married to Jonathan Kong. Currently, they are preparing to return to Thailand to serve in the areas of Business as Missions and community development.