The Meaning of Lent to This Unchurched Christian
The Meaning of Lent to This Unchurched Christian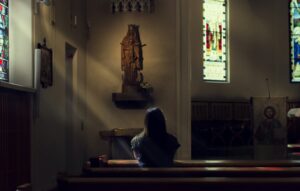 Margaret RENKL. Feb. 28, 2022. The Meaning of Lent to This Unchurched Christian. The New York Times. Retrieved from: https://www.nytimes.com/.
On Wednesday, in Catholic parishes across the world, a priest will dip his thumb into a pot of ashes – the burned remains of blessed palms from last year's Palm Sunday Mass – and smudge the sign of the cross on each congregant's forehead. Performing this ancient ritual, he will murmur, "Remember that you are dust, and to dust you shall return."
The priest will say these words on Ash Wednesday, the first day of Lent, but he will not be saying these words to me.
I have had a troubled relationship with the church of my childhood since childhood itself, when I learned in Catholic school that I would never be allowed to become a priest. For decades, nevertheless, the gifts of my faith outweighed the pronouncements of the institutional church that I found alienating or enraging. Human institutions are inherently flawed, and I have always loved the rituals that linked me across time to so many others facing fear and loneliness and pain, to so many others finding solace in their faith.
Then the pandemic quarantines left me unchurched through no choice of my own, and the death of our last parent, for whom there would only ever be one church, left my husband and me free to make our own choices about where to worship. I came to understand that my growing feeling of spiritual alienation wasn't temporary. I loved my parish, and I loved our brilliant, compassionate pastor, but I was done with the institutional church.
Still, I miss the community. I miss the singing. I miss serving in social justice ministries. I even miss the ashes.
Ash Wednesday isn't a day for rebellion. It's a day for fasting, reflection and prayer, a somber reminder that our lives are brief, our days running out. "Remember that you are dust, and to dust you shall return." The longer this pandemic drags on, the clearer those words become.
At 60, I am making peace with the dust to which I will return. For myself, at least – and only for myself – I don't even mind the idea of mortality, for I have thrown in my lot with immortality. And isn't the promise of immortality what Lent prepares us for? And isn't the promise of immortality what Lent prepares us for? How will I make ready, now that I am without a church? What rituals will I observe, now that the Stations of the Cross no longer belong to me?
In the old days, my Lenten resolution almost always meant giving up something whose absence I would feel acutely: coffee, perhaps, or cussing. In that way I would be reminded, again and again, of what this season is for. But the practice of imposed sacrifice feels as alien to me now as anything else from my decades as a practicing Catholic. Haven't we all had enough sacrifice in these last years? Every day I grieve two beloved family members lost during this pandemic. Every day I bear the grief of a burning world. I don't need to give up cussing at Vladimir Putin, too.
During their midlife years of creeping weight gain, my mother and father would announce that they were losing 10 pounds for Lent, a goal I always found hilarious. As a Lenten resolution, it did bear some resemblance to the fasting and sackcloth of the early days of Christianity, if not for an entirely spiritual reason. I'm no theologian, but I feel sure that Jesus did not spend 40 days and 40 nights in the desert so he could fit into his old jeans.
It's not that I disapprove of the secular expressions of the Lenten observation that have sprung up during this century of steeply declining church membership. If people want to lose 10 pounds or jump-start their new novel or give veganism a try, I say more power to them. And God knows I'm all for a social media fast.
Life is hard for all living things. To make it harder – knowingly and willingly, for even a contained period – is a uniquely human exercise. We want to be better than we are. We want living to mean more than surviving. There is something truly beautiful about that impulse, whatever form it takes.
But as a new member of the unchurched Christian faithful, what am I supposed to do with Lent? Surely there must be some spiritual practice that falls between a church-ordained ritual and a secular perfectibility project. Something that would help me use this time of prayer and reflection to move away from the fears I cannot shake – for my country, for my planet – and toward a stronger faith in the possibility of redemption, a more certain conviction that all is not yet lost in this deeply troubled world.
My maternal forebears, all Protestants, were great believers in starting the day with a prayer and an entry from that season's devotional. But my idea of a daily spiritual practice is less a prayer written by someone else than a walk in the woods alone. A devotional isn't what I'm looking for, and neither is another church's Lenten program. Not yet, anyway.
Honestly, I don't know what I'm looking for.
Forty years ago, I took a college course in the philosophy of religion. I still have the textbook, and I"ve been looking at what I underlined in that book, at which passages I carefully marked with a star. Why did the girl I was 40 years ago decide certain passages should be marked with a star?
I signed up for the class because I was having my first crisis of faith. The class itself did nothing to clarify my confusion, and continually thinking about the questions that plagued me wasn't helping, either. Still I fretted. Still I tried to figure out what I believed and why.
Then one summer afternoon, months later, I was sitting in my parents' backyard, listening to a mocking bird sing. Suddenly, inexplicably, a feeling of peace came over me. A feeling of perfect, absolute peace. No voice of reassurance came with it, and no words formed in my own mind to explain it. But if there had been words, they would've sounded something like: "It's OK. Don't worry. It's OK."
I didn't need to understand. I didn't need to decide.
It was the closest thing I have ever known to the sort of moment William James described in "The Varieties of Religious Experience" – a work that is heavily highlighted and marked with stars in my old textbook. And maybe that memory is enough for me now, too. I can continue to ponder, to be puzzled. I will almost certainly continue to feel just a little bit lost. I'll look for a new church someday, a new place to put all this sorrow and a new community with whom to share it, but I'm not oliged to find that place just now. Ash Wednesday tells me only to keep trying: to believe, to be better, not to give up hope. And that's faith enough for any season.