[Apr. 27, 2022] SIBD's Bible Character Series – REFUGE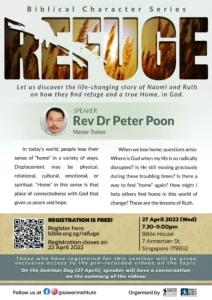 Bible Character Series – REFUGE
Let us discover the life-changing story of Naomi and Ruth on how they find refuge and a true Home, in God.
In today's world, people lose their sense of "home" in a variety of ways. Displacement may be physical, relational, cultural, emotional, or spiritual. "Home" in this sense is that place of connectedness with God that gives us peace and hope.
When we lose home, questions arise: Where is God when my life is so radically disrupted? Is He still moving graciously during these troubling times? Is there a way to find "home" again? How might I help others find home in this world of change? These are the lessons of Ruth.
Those who have registered for this seminar will be given exclusive access to the pre-recorded videos on the topic. On the Seminar day (27 Apr), Rev Poon will do a conversation on the summary of the videos.
Onsite Event Date: 27 April 2022 (Wed), 7.30 PM – 9.00 PM
Venue: 7 Armenian Street, Bible House – Level 4, Morrison-Liang Room Seminar Rooms 1 & 2, S179932
Register HERE.