Singles Conversation: Burning Questions on Christian Dating and Singlehood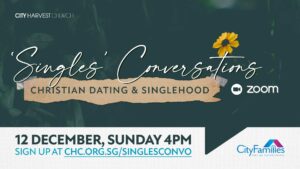 Burning Questions on Christian Dating and Singlehood
Date: 12 December 2021, Sunday
Time: 4-6pm
Venue: Zoom
CF Connexion will be holding an online interactive Q&A session for all singles. Pastor Jeremy Choy and Pastor Veronica Tang will be answering questions on singlehood and finding a life partner, as well as important topics that don't get addressed often enough in church. Topics include:
Am I ready for a relationship?
What are the qualities of a partner?
After so many failed relationships/dating attempts, is there something wrong with me?
How do I know if I should "accept" my situation or hope for my partner to "change"?
Who should pay on the first date? What about subsequent dates?
Should a Christian use online dating apps?
Keys to sexual purity in dating
What hope does God offer to singles who are still waiting for their partner?
Could I be content if I were to remain single?
Please also note that as the Singles Conversation is an online event, by participating in this event, you agree and consent to Zoom's Privacy Policy and Terms of Service.