Reaching Myanmar UPG
Reaching Myanmar UPG
WITH FAITH, HOPE & LOVE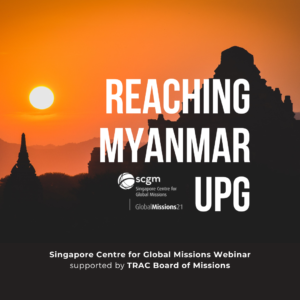 Reaching Myanmar UPG is a missions webinar to share the needs in Myanmar and to seek strategic ways in which the local churches and mission agencies can pray for the unreached people groups and serve them.
It is a call for strategic coordinators and personnel to join the research and resource team which can work towards peace and hope for the peoples of Myanmar.
Date: Jan 15, 2022
Time: 1000hr – 1200hr
Location: Webinar
Organiser: Singapore Centre for Global Missions
To register: SGM Webinar: Reaching Myanmar UPG 
(This online registration form will close on Wednesday, January 12, 2022 @ 2359hr.