Questions or Answers
Questions or Answers?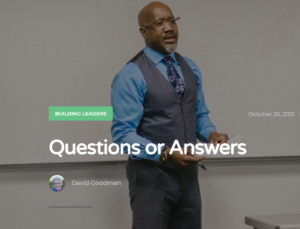 October 26, 2021. Questions or Answers. HealthyLeaders Digest. Retrieved from https://healthyleaders.com/.
What makes a better teacher: the ability to ask the right questions or having all the answers?
Stop and think about that question for a moment before you read on.
Now, you could ask, "Does his asking that question tip his hand?"
In truth, I think the answer to my question depends on the specific situation.
Do you ever think when it comes to teaching a Bible class or holding forth from the pulpit, that speakers sometimes err on the side of wanting to be the "Bible Answer Person?"
The surprising thing about Jesus was the number of questions He asked. According to John Dear, in his book The Questions of Jesus, Jesus asked 307 questions as recorded in the gospels, not counting the rhetorical questions He included in His parables. Remarkably, according to Dear, Jesus only chose to answer three of His own questions. Why do you think that was?
Are we inclined to undervalue questions?
If you suddenly realize you've mistakenly swallowed a poisonous substance, will you be satisfied with a well-articulated question? On the other hand, what do you think of this unanswered query Jesus made of some of the leading thinkers of His day: "How will you escape being condemned to hell?" (Matt. 23:33).
That was an important question for the Scribes and Pharisees to contemplate. Were they genuinely ready to grapple with it?
Both Matthew and Mark record an incident where people who had heard Jesus speak, observed that "He taught as one having authority"– and contrasted that with the lawyers of the day (Matt. 7:29; Mark 1:22).
Is teaching with authority about giving answers? Do you think people in the culture of the West at times might be a bit lazy, expecting our teachers to fill in all the blanks rather than asking us to think once in a while? And do we perhaps also think that in our ministry to the rest of the world we act as if we are supposed to have all the answers?
Do you think this article should end with answers?
About the Author
Dr. Goodman was born in Cameroon, Africa. He spent his childhood in the Central African Republic with his parents, where he gained first-hand understanding of cross-cultural life and ministry. He has ministered in various pastoral positions in local churches and was senior pastor of Winnetka Bible Church in Winnetka, Illinois, for 13 years. He's also served as international vice president of T-Net International, equipping and mobilizing American pastors to teach pastor trainers around the world, and as Senior Associate: Strategic Enterprise for TOPIC (Trainers of Pastors International Coalition). He filled the role of CEO of Entrust for just over a decade, continuing in his calling to serve with a creative, collaborative ministry team called by God to equip and multiply pastors and church leaders worldwide. Dr. Goodman and his wife Nancy have been married since 1972, have three adult children and seven grandchildren. They enjoy the adventure of exploring new places, new ideas and other cultures.