[May 5 & 12, 2022] NEW Course by SIBD: ILM Level 5 Diploma in Effective Coaching & Mentoring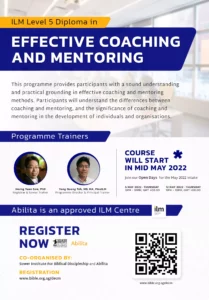 ILM Level 5 Diploma in Effective Coaching And Mentoring
This programme provides participants with a sound understanding and practical grounding in effective coaching and mentoring methods. Participants will understand the differences between coaching and mentoring, and the significance of coaching and mentoring in the development of individuals and organisations.
Abilita is an approved ILM Centre
This programme is monitored and assessed by ILM, a part of City & Guilds Group (UK). The ILM Level 5 Diploma in Effective Coaching and Mentoring is a regulated qualification that is accredited by the Office of Qualifications (Ofqual) in England. The Level 5 Diploma is equivalent to a Diploma in Higher Education or second year in a university degree program.
Programme Trainers:
Yong Guang Teh, MD, MA, FInstLM | Programme Director & Principal Trainer
Yong Guang is an educator who is deeply passionate about helping leaders all around the world thrive. He currently holds senior leadership positions in academic, healthcare and non-profit organisations. Also, he has spearheaded international education initiatives for communities in Africa and Malaysia. In line with his passion, he is experienced in coaching and mentoring leaders to overcome significant adversity and attain personal growth.
Professionally, Yong Guang is a clinical radiologist who leads medical imaging teams at a busy children's hospital that serves a diverse population of 1.2 million kids. He holds Master's degrees in Organizational Leadership (York, NE, USA) and Counselling (both with distinction). He is qualified by the British and European Psychological Societies to administer psychometric instruments for learning and development. Yong Guang is a Fellow of the Institute of Leadership & Management (UK).
Horng Yuan Saw, PhD | Registrar & Senior Trainer
Horng has served in more than 10 organisations in Malaysia, South Korea, and New Zealand for the past 20 years, which included universities, research institutes, faith-based and non-profit organisations, and community trusts. He has experience working with more than 20 leaders of different nationalities, engaged business stakeholders and partners, and provided leadership and training to people of different professions and age groups. He has delivered sessions and spoken in Malaysia, Indonesia, Singapore, the Philippines, China, New Zealand, and Australia.
Horng holds a PhD (Massey University, NZ), MEng and BEng (Universiti Malaysia Sabah), Diploma in Christian Ministries (Alphacrucis College), and a Dale Carnegie Training professional certificate.
Join our Open Days for the May 2022 Intake
Thursday May 5 2022 | 09:00 PM – 10:00 PM GMT+08:00
Thursday May 12, 2022 | 09:00 PM – 10:00 PM GMT+08:00\
Venue: Zoom Meeting
*Course will start in mid May 2022*
Join the open days and get more info about ILM Level 5 Diploma in Effective Coaching And Mentoring, visit: https://www.abilita.solutions/decm5-sibd-bss
Special Discount is available when you register with us. Detailed program pricing will be presented on the Open Day.