[Media Release] WEA Secretary General Congratulates UN Environment Programme to 50th Anniversary, Calls UN Body "Pioneer in Engaging Faith Groups"
[Media Release]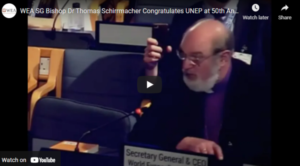 WEA Secretary General Congratulates UN Environment Programme to 50th Anniversary, Calls UN Body "Pioneer in Engaging Faith Groups"
New York, NY – March 14, 2022
World Evangelical Alliance (WEA) Secretary General Bishop Dr Thomas Schirrmacher congratulated the United Nations Environment Programme (UNEP) to its 50th anniversary at a special celebratory event following the UN Environment Assembly in Nairobi, Kenya last week. Invited to speak on behalf of all faith groups, Schirrmacher called UNEP a pioneer among UN organizations and entities in recognizing the importance of people of faith in responding to global issues.
"Your willingness to invite a representative of a major global faith group to participate in this Leadership Dialogue is an important message in itself," Schirrmacher said. "Historically, UNEP has been a pioneer amongst UN organizations and entities in recognizing that faith, values and ethics cannot be ignored when we are exploring causes of and seeking solutions to the pressing crises of our times."
"UNEP's Faith for Earth Initiative is a success story. For members of Faith for Earth, it has grown far beyond an 'initiative.' Faith for Earth is a confession by many communities of faith that having faith means you ARE for the Earth," he noted, and added: "Faith for Earth embodies a realization by the United Nations that we need faith, faith communities and faith traditions to effectively tackle the pressing issues besetting our shared Earth. Moreover, Faith for Earth expresses a mutual commitment by faith groups and the UN to communicate and collaborate."
"Although I have not personally been commissioned to represent all the six billion people in the world for whom spiritual values play an important role, I know the vast majority of them would agree with me that UNEP's leadership deserves our deep gratitude for closing the ranks with faith communities in the best interest of our common home. Looking back, one can only applaud UNEP for its remarkable journey with faith communities. May the successes of the past inform our path for the future," Schirrmacher concluded.
Established in 1972, UNEP's mission is to provide leadership and encourage partnership in caring for the environment by inspiring, informing, and enabling nations and peoples to improve their quality of life without compromising that of future generations. Last week, the fifth UN Environment Assembly passed a resolution to end plastic pollution and forge an international legally binding agreement by 2024 that WEA and other faith actors advocated for.
Regarding WEA's involvement with UNEP, Schirrmacher comments that "in the very first chapter of the Hebrew Scriptures, we are told that human beings were created in the image of God and were given the responsibility to preserve creation. Humans do not own creation—it was entrusted to them. Therefore, safeguarding creation is a duty for every one of us. Regardless of our level of knowledge or expertise, we should be contributing our abilities and efforts to ensure that our planet remains a livable, just and peaceful home."
### 
MEDIA CONTACT:
Timothy K. Goropevsek, 
Chief Communications Officer, 
timothyg@worldea.org, 
+1 212.233.3046