[Apr. 26, 2022] LIFE TRAINING: A Suicide Prevention Workshop by Sower Institute for Biblical Discipleship (SIBD)
UPDATE: 29 March and 30 April sessions are already FULL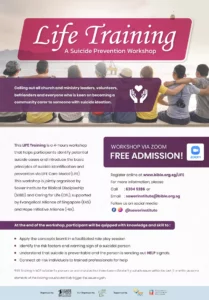 Calling out all church and ministry leaders, volunteers, befrienders and everyone who is keen on becoming a community carer to someone with suicide ideation.
This LIFE Training is a 4-hours workshop that helps participants identify potential suicide cases and introduce the basic principles of suicide identification and prevention via the LIFE Care Model (LIFE).
This workshop is jointly organised by Sower Institute for Biblical Discipleship (SIBD) and Caring for Life (CFL), supported by the Evangelical Alliance of Singapore (EAS) and Hope Initiative Alliance (HIA).
At the end of the workshop, participants will be equipped with knowledge and skills to:
Apply the concepts learnt in a facilitated role play session
Identify the risk factors and warning signs of a suicidal person
Understand that suicide is preventable and the person is sending out HELP signals
Connect at risk individuals to trained professionals for help.
Speaker Bio: Ms Brenda Koay
Brenda is a skilled counsellor, trainer and career coach with a Master's degree and BA in Counselling. She is a Certified Psychiatic Rehabilitation Practitioner and she worked as a Community Outreach Manager of Caring for Life (CFL) – a charity organisation, Brenda provides LIFE Training for community carers, service providers and partners.
FREE ADMISSION: Register HERE
You will be contacted through email (from SIBD) upon confirmation of your registration.
Dates and Time:
29 March 2022 (6-10PM) – FULL
26 April 2022 (6-10PM) – 2 seats left
30 April 2022 (9AM-1PM) – FULL
Mode: via Zoom