Junta Artillery Shells Destroy Homes, Damage Church in Mindat
Junta Artillery Shells Destroy Homes, Damage Church in Mindat
The Myanmar army responds to a CDF attack by firing heavy weapons into the Chin State town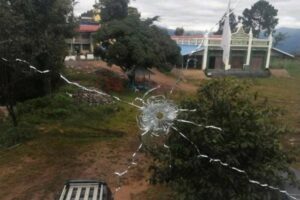 A bullet hole in the window of a church damaged by the junta in Mindat on Sept 23
Sep 24, 2021. 
Junta artillery shells destroy homes, damage church in Mindat

. Myanmar NOW. Retrieved from https://www.myanmar-now.org.

A church and several buildings were hit by artillery shells fired by the Myanmar army during a clash with the Chinland Defence Force (CDF) on Wednesday night in Mindat.

At around 7pm, the CDF-Mindat launched a guerrilla attack on junta troops in Ashaypyin ward, and the military responded by firing heavy weapons, according to a spokesperson for the Mindat People's Administration Committee, who said shootouts occurred in two locations in the ward.

The shells destroyed at least three homes and some buildings within the compound of the Sacred Heart of Jesus Catholic Church. "[The troops were stationed] on a hill, very close to a [junta] general administration office and a police station. They fired artillery because youth from the CDF came there and opened fire on the junta's troops," Father Shal Thang, the church's priest, said. "The glass above the church was hit by some bullets, and an artillery shell fell beside the church and exploded. The shrapnel hit the windows," he told Myanmar Now.

Myanmar army soldiers visited the damaged church compound on Thursday morning, Father Shal Thang said.At the time of reporting, it was unknown if there were casualties on either side of the fighting in Mindat on Wednesday. Also at 7pm on Wednesday, junta soldiers occupying a school and police station in Kanpetlet, Chin State, fired shells into the town, destroying homes. "They fired heavy artillery and small arms into the town of Kanpetlet. It was not face-to-face fighting," a spokesperson for the Kanpetlet People's Administration Committee confirmed.

Fighting broke out between the junta's troops and the CDF in Thantlang on September 18, forcing nearly the entire population of the town to flee. At least 18 homes and a government building were set ablaze by the junta's artillery fire, and a Christian pastor who tried to put out the fire was shot dead by the Myanmar army troops. Following the military's siege on Thantlang, the CDF-Mindat attacked their soldiers in Mindat the following day, killing two junta troops and injuring several others, according to the resistance group.

The Chin Baptist Association released a statement on September 19 condemning the junta's desecration of ethnic Chin Christian churches, where Myanmar army troops have opened fire, destroyed property and Bibles, and drank alcohol—acts which the association said could exacerbate the current conflict.