[Oct. 4-6, 2022] Hope for Europe Conference 2022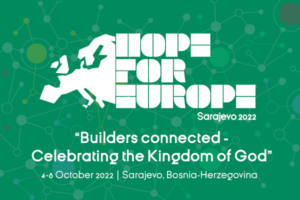 In challenging times like these, the light of hope shines brighter than ever. So, despite all the distress, we as followers of Jesus and believers also see the great opportunities for the proclamation of the Gospel and the building of the Kingdom of God in Europe.
Despite the new technical possibilities that evolved in the wake of Covid 19, the pandemic is having disconnecting effects. Studies show how people are becoming more and more alienated from each other. This is exactly the reason why, from our point of view, an event like the HOPE 2022 Conference is all the more necessary. HOPE 2022 is connecting builders, because we share hope. In this regard, Hope 2022 is an antidot to being disheartened.
Today we would like to encourage you for this reason: Be courageous, be fearless, be strong. We learn this encouragement from the scriptures, and we joyfully pass it on as believers to one another. HOPE 2022 will take place from 4th to 8th October 2022 in Sarajevo / Bosnia-Herzegovina under the title "Builders connected – Celebrating the Kingdom of God". In December, the event page on the EEA website will be finalised so more information will be available soon. Make sure to save the date in your calendar – we would love to see you personally at HOPE 2022.
As a small appetiser, we can already reveal today that the HOPE 2022 Conference will deal with three major expressions of building the Kingdom of God in Europe during the three main conference days: The first day will be about "Proclamation", the second day about "Good Deeds" and the third day about "Speaking Up". We believe that this is what Europe desperately needs: Builders of the Kingdom of God who proclaim the good news, do good and engage in advocacy work on the social and political level.