Grow: Evangelism in a Skeptical World
Grow: Evangelism in a Skeptical World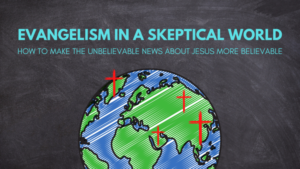 January 16 – February 27, 2022
Details
As God's children, sharing the Father's Good News should be the easiest and most natural thing for us to do, but the reality is many of us just don't have the confidence to do so or know where to begin.
Our post-modern culture holds that the individual has the right to choose their own path and identity: it is foolishness to submit to self-proclaimed authorities including the church and God. Many of the themes that tie the Bible together have little resonance in our world. It seems like it's impossible to simply talk our friends and family into the Kingdom.
Join us for the first Grow class of the year to be equipped in personal evangelism! This class will go beyond mere memorisation of tools but will give us practical handles on how to make God known to the skeptical, questioning world around us.
At the end of this class, we will
(1) Understand what the Bible says about Good News sharing
(2) Gain handles to share the Good News in a way that will makes sense to people around us so that we can seize the opportunities God gives us to obey His Great Commission.
(2) Have a community of fellow-believers who will support us as we share our Father's story!
What you can expect:
16 Jan – The Theology of Evangelism
23 Jan – Everyday Evangelism & Your Story
30 Jan – How to Craft a Gospel Presentation
CNY Break for Hands-On Practice
13 Feb – Evangelism in Our Post-Modern Context
20 Feb – Storytelling the Gospel
27 Feb – Tackling Some Common Objections to the Gospel
The class will be held over zoom with the option of having the last session in-person.
Class size: Max 25 participants
If you need further clarification, feel free to drop Erny an email at erny@wefc.org.sg or whatsapp/telegram 98200639.