For Missionary Group in a Fragile Haiti, Charity Turns to Chaos
For Missionary Group in a Fragile Haiti, Charity Turns to Chaos
An organization based in Ohio and founded by Amish and Mennonites has been swept up in the violence roiling the country.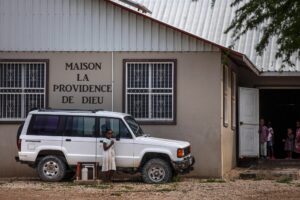 Ruth Graham and Elizabeth Dias. Published on Oct 17, 2021. Updated Nov 2, 2021.
For Missionary Group in a Fragile Haiti, Charity Turns to

Chaos. The New York Times. Retrieved from https://nytimes.com.

Christian missionary workers typically labor in obscurity, running medical clinics, building wells and delivering Bibles without fanfare — until crisis erupts.

There was Andrew Brunson, an evangelical pastor from North Carolina who was swept up in a coup attempt in Turkey in 2016 and detained for two years. And Kent Brantly, a medical missionary who nearly died from Ebola in Liberia.

On Saturday, Christian Aid Ministries, a global missionary organization in Millersburg, Ohio, that was founded by Amish and Mennonites, unwillingly joined the ranks of those making headlines when 17 members of its group were kidnapped.

Six men, six women and five children were abducted, Christian Aid Ministries said in a statement on its website. "Join us in praying for those who are being held hostage, the kidnappers and the families, friends and churches of those affected," the statement said.

The group was kidnapped by a gang outside Port-au-Prince on Saturday afternoon. Amid political turmoil and the aftermath of a major earthquake in August, the capital city has been ravaged by crime; gangs are now said to control half the city.

The gang, known as 400 Mawozo, was also accused of kidnapping five priests and two nuns in Haiti this year. The kidnappers demanded a $1 million ransom for those victims. It was not clear whether the ransom had been paid, but everyone was eventually freed.

"That was the big sign they can do what they want," said Timothy Schwartz, an anthropologist and consultant who has lived in the country since the 1990s. "Now they're taking the next step with the Americans."

Christian Aid Ministries, which was founded in 1981, says on its website that it "strives to be a trustworthy and efficient channel for Amish, Mennonite, and other conservative Anabaptist groups and individuals to minister to physical and spiritual needs around the world." Anabaptist communities date to the Protestant Reformation and are known for their pacifism, simple lifestyle and beliefs in adult baptism.

Christian Aid Ministries did not respond to requests for comment on Sunday. But a former Haiti field director for the group, Dan Hooley, said that at least some of the kidnapped missionaries had not been in the country for long. One family had lived there for "a couple of months," he said, and another man arrived on Friday to work on a relief project related to an earthquake that struck the country in August.

There were about 1,700 Christian missionaries in Haiti as of mid-2020, according to the Center for the Study of Global Christianity at Gordon-Conwell Theological Seminary. Most are Catholic, but Seventh-day Adventists, the largest Protestant group in the country, are also a major presence. There are more than 100 Christian mission organizations working in Haiti, the group estimates.

Mr. Hooley estimated that Christian Aid Ministries had more than 20 employees in the country. Along with Christian Aid Ministries, other Anabaptist mission groups in Haiti include smaller ones like Mennonite Gospel Mission, Haiti Relief and Missions, and Redeemed Vocational School.
Credit

Adriana Zehbrauskas for The New York Times
Smaller Anabaptist mission groups have worked in Haiti for decades, often affiliated with faith communities in the United States, especially across the Midwest. Local Mennonite and Amish groups hold annual auctions across the country to raise money for about 17 Anabaptist mission groups in Haiti, including Christian Aid Ministries, said Tim Miller, the chairman of the Florida auction. This year, the auctions raised about $4 million or $5 million, he said.
"Christian Aid Ministries is the big dog in the mission world," he said. "They know how to get containers full of medicine into Haiti whereas a lot of other missions just can't get it done."
More conservative Anabaptist communities feel comfortable working with Christian Aid Ministries, he said. The organization has far more resources than smaller mission groups, allowing it to use more high-end vehicles like Land Cruisers instead of older vehicles that smaller mission groups rely on, he said.
Some faith-based missions groups "go for two weeks, do some work and they all come home and then they don't go back," said the Rev. Dr. Craig Morton, a Mennonite pastor in Boise, Idaho. In contrast, he said, "most of the Mennonite organizations that I'm familiar with, they maintain longstanding relationships."
Christian Aid Ministries reported revenue of more than $130 million in 2019, according to its latest available tax filings. Almost all of that revenue came from contributions. The group is involved in 126 countries around the world.
Mr. Miller, who also serves on the board of a smaller relief group called the Haiti Christian Union Mission, said his group brought its two missionary families in Haiti, including seven children, back to the United States after the assassination of President Jovenel Moïse in July.
One of those missionaries, Michael Martin, 34, had lived in northern Haiti with his wife and children for the past three years, working on community financial savings projects. About 2,000 Haitians participate in the program, which helps them save money to build their own small businesses, he said.
"It is dangerous — it always has been," Mr. Martin said. "But God is a big God, and he is able to keep us safe."
Other Americans in the country expressed skepticism over Christian Aid Ministries' wisdom in driving in the area where the 17 missionaries were kidnapped. Joel Trimble, who has been an independent Christian missionary in Haiti since the 1970s, said the area the missionaries were seized was known to be particularly dangerous.
"To take a vehicle this size with that many white American missionaries and travel anywhere in Port-au-Prince, especially in that area, it was very unwise," he said. "Kidnapping is quick money, and when they see a van full of white people, that is major dollar signs."
Mr. Schwartz, the anthropologist, agreed. "What in the hell were they doing out there?" he wondered of the missing missionaries. "That place is a no-go zone these days."
The State Department issued a Level 4 travel advisory for Haiti in August, instructing Americans not to travel to the country because of "kidnapping, crime, civil unrest and Covid-19." The warning described the kidnapping of U.S. citizens as common, with kidnapping often involving ransom negotiations and physical harm to victims.
Christian Aid Ministries' most recent annual report said that its American staff members had departed the country "due to political unrest" for about nine months in 2019. But the group returned to the country the next year.
Amish and Mennonite construction and manufacturing businesses are thriving in the current economy, but most believers do not spend their money on the same consumer products that tempt many Americans. "There's a lot of surplus profit from these successful businesses that people are looking to give to charity," said Cory Anderson, editor of The Journal of Amish and Plain Anabaptist Studies.
Haiti is a popular cause, Mr. Anderson said, in part because of the effectiveness of messaging by Christian Aid Ministries. The country is very close to the United States, making it an easy location for short-term trips. And the depth of its needs makes it an appealing recipient of labor and largess. "There's this theological sense that we can't blink at danger," Mr. Anderson said. "We have to go to a place where it could get dangerous."
Ruth Graham is a Dallas-based national correspondent covering religion, faith and values. She previously reported on religion for Slate. @publicroad
Elizabeth Dias covers faith and politics from Washington. She previously covered a similar beat for Time magazine. @elizabethjdias