Finding Purpose by Giving Back
Finding Purpose by Giving Back
Whether helping people stay clean and safe, pursue their educational dreams or find the aid they need, volunteers make a difference.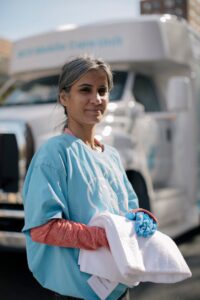 Shamma Goodrich has volunteered this year with Brooklyn Community Services' shower bus. 
When Shamma Goodrich moved to New York in 2015, she was struck by the homelessness in Manhattan.
"I was basically in shock for a few years," Ms. Goodrich said. "I was like, is this America? What happened? Where am I living? What am I doing?"
Ms. Goodrich had become familiar with American Culture through her work in busines development and sales in New Delhi. But when she moved to New York in search of new opportunities, she encountered a level of need that she hadn't been expecting.
Dismayed that so many New Yorkers did not have a place to sleep at night, she sought to volunteer, though she became frustrated when organizations she spoke with focused on fund-raising.
"I wanted to give time," said Ms. Goodrich, 36. "I'm like, I have time, I don't have money. I can give my time."
She worked in a restaurant and in retail, and after a few years in Manhattan, she moved to Brooklyn, where she discovered Brooklyn Community Services, one of the nine organizations supported by The New York Times Neediest Cases Fund.
This year, she was able to start the volunteer work she'd been seeking, assisting with Brooklyn Community Services' shower bus.
The organization was building a shuttle bus with two full-size bathrooms to help those without reliable access to bathing. Ms. Goodrich had been working at a gym, where she noticed that a few of the members would skip the workout equipment and just use the showers in the locker room.
The pandemic highlighted just how important hygiene was, and having worked as a restaurant hostess, Ms. Goodrich thought her hospitality skills would be a plus.
"My whole life has been preparing me for this," said Ms. Goodrich, who began volunteering in April when the bus debuted. She added, "Immediately it spoke to me."
Brooklyn Community Services planned to begin the program in April 2020, but the start was delayed until this year because of the pandemic. Typically the bus is in service three days a week, and servers communities in East New York, Coney Island and Park Slope. As clients wait, they are offered hot meals, clothing and other resources, like H.I.V. testing and Covid testing and vaccinations.
Volunteers like Ms. Goodrich help clients line up and hand out supplies like soap, shampoo and towels. They also make sure to give clients personal protective equipment, like masks and gloves, to help shield themselves against Covid-19. That work continues this winter while the shower bus is on hiatus in cold temperatures.
After each client showers, Ms. Goodrich and fellow volunteers and staff members clean the entire bathroom.
"Everybody should have access to a shower," Ms. Goodrich said. "They deserve that."
(Left) Frank DeSimone regularly heard his mother emphasize the value of education. Now, he volunteers to help young people achieve their high school equivalency diploma.
Frank DeSimone also feels as though his life experiences have helped him for volunteering. Mr. DeSimone assists at the Next Generation Center, which supports young adults who are in or aging out of foster care, have been arrested or are experiencing homelessness. The center is operated by Children's Aid, another beneficiary agency of THe Neediest Cases Fund.
Mr. DeSimone grew up on Long Island, where his parents owned a grocery store. His mother dropped out of school after eighth grade, and made it clear to Mr. DeSimone and his siblings that school should be their top priority.
"My mother drilled into me, education, education, education," said Mr. DeSimone, 67.
Mr. DeSimone instilled those lessons in his three children, telling them that education could open doors.
So when Mr. DeSimone retired in 2015 from his career in commercial banking, he began looking for opportunities to volunteer and learned about education al programs through Children's Aid.
"I said, 'Wow, this matches so much with what I believe in,'" Mr. DeSimone said.
For the past five years, he has been volunteering at the Next Generation Center, where he helps students achieve their high school equivalency diplomas. Since the start of the pandemic, Mr. DeSimone has been teaching his classes online.
"You watch their faces, and especially the graduates, how proud they are of themselves" Mr. DeSimone said. "The graduations are wonderful. Getting the current students to sit in there and hear it just gets them more motivated."
In Edison Speck's more than two decades of volunteer work, he has helped New Yorkers receive public assistance.
After retiring from working in a data center, Edison Speck also became a volunteer, joining the Retired and Senior Volunteer Program at Community Service Society, another beneficiary of The Neediest Cases Fund.
"It gives me something useful to do, something to feel good about myself when I do it," said Mr. Speck, 89. "That's worth a lot to me."
Over the past 26 years, Mr. Speck has worked on a variety of projects, most consistently as a benefits counselor through Community Service Society's Advocacy, Counseling and Entitlement Services program. In that role, he helped patients at Jacobi Medical Center in the Bronx navigate public assistance programs.
During the pandemic, Mr. Speck had to adjust to doing that work over the phone, whcih became so much of a challenge that he recently decided to take a break until he is able to volunteer again in person. Mr. Speck said that he misses working with his clients, and is counting down the days until he is able to work with them in person again.
"It's work that I enjoy doing," Mr. Speck said, "and I really think that I benefit from it as much or more as the clients do."