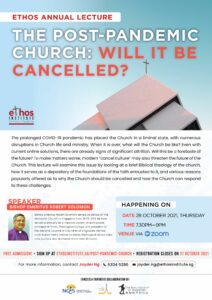 [ETHOS Annual Lecture 2021] The Post-Pandemic Church: Will It Be Cancelled?
The prolonged COVID-19 pandemic has placed the Church in a liminal state, with numerous disruptions in Church life and ministry. When it is over, what will the Church be like? Even with current online solutions, there are already signs of significant attrition. Will this be a foretaste of the future? To make matters worse, modern "cancel culture" may also threaten the future of the Church. This lecture will examine this issue by looking at a brief Biblical theology of the church, how it serves as a depository of the foundations of the faith entrusted to it, and various reasons popularly offered as to why the Church should be cancelled and how the Church can respond to these challenges.
Date: Thursday, 28 October 2021
Time: 7.30pm – 9pm
Venue: ZOOM Webinar
Speaker: Bishop Emeritus Robert Solomon served as Bishop of The Methodist Church in Singapore from 2000-2012. He had served previously as a medical doctor, church pastor, principal of Trinity Theological College and president of the National Council of Churches of Singapore. He has contributed many articles to books, theological dictionaries and journals, and authored more than 40 books.
Registration closes on
21 October

.