Asia Evangelical Alliance Shares on How to Navigate through the Digital Age in November 2021 Newsletter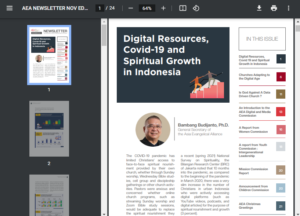 Asia Evangelical Alliance. November 2021.
The Asia Evangelical Alliance has published their November 2021 issue of Newsletter. In this issue, they focus on digital/online resources and how it impacts the church during the pandemic time. Read about research findings on the relationship of digital resources and spiritual growth in Indonesia, churches adapting to the digital age, the importance of being data informed, introduction to AEA Digital Commission as well as sharing of its vision and strategy, reports, news and updates from different commissions and countries. This issue also contains Christmas greetings from AEA leadership and staff. Merry Christmas to all!