Art, faith and nationalism 'Soar' at The Manila Hotel
Art, faith and nationalism 'Soar' at The Manila Hotel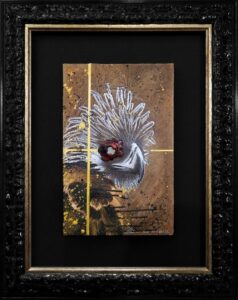 Tessa Mauricio-Arriola. October 15, 2021. 
Art, faith and nationalism 'Soar' at The Manila Hotel

. The Manila Times. Retrieved from https://www.manilatimes.net.

A staggering 33-piece exhibit opened at a very opportune time at The Manila Hotel over the week, just as government announced a Level 3 downgrade of NCR's General Community Quarantine guidelines beginning today.

For aesthetes who have missed the experience of physically viewing works of art, renewed and returning mixed media maven Kristine Lim's second solo exhibition, "Soar," awaits visitors at The Manila Hotel.

Every piece, including several triptychs, truly arresting, Lim displays a specialized technique anew, combining ground textures in layers of metallic bronze and gold-colored glazes over graphite pentimenti.

The artist says the process is deliberate, for she wishes to share her creative journey with viewers, which becomes tangible through her very intricate aesthetic.

Lim considers herself an "artist with a mission," "a Filipino Christian with an evangelical inclination," who always puts her faith and patriotism at the center of her work.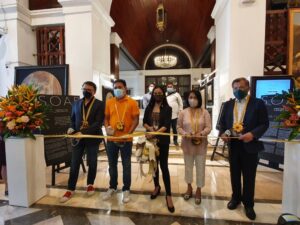 This is evident in many of her pieces, where the majestic Philippine Eagle reigns supreme. A powerful animal endemic to the Philippines, Lim says, "It is a symbol of the nation and a reminder of how blessed we are with natural resources, and how we need rightful stewardship of our environment by keeping the balance the Lord God intended."
Going deeper into her inspiration for Soar, Lim hopes her works can somehow offer a path to salvation based on the guiding principles of her Christian faith.
In the same way the noble eagle is brought to life by the dramatic interplay of metal fragments, golden specs, and dark graphite, Lim intends for her subject and interpretation "to reflect how the Bible often uses the animal as a metaphor for the impossible heights people can achieve with God in their life."
As exhibit curator Ricky Francisco of Art Lounge Manila encapsulates, "Using her faith and her ideas of nationalism, Kristine Lim uses the Philippine eagle as an encouragement for Filipinos to be their best selves, and soar."
Presented by the noted art gallery in cooperation with The Manila Hotel, Soar is available for viewing at the Lobby Lounge through October 31.
Proceeds of the closing auction will go to Malasakit Para Sa Bayan Foundation Inc. Further details can be found via @artloungemanila on Facebook, Instagram and YouTube.